CMMC Compliance: Can Your IT Team Prepare Your Business For the Latest DoD Standards?
Key Points:
The US Department of Defense (DoD) presents 171 unique security controls for all organizations in the Defense Industrial Base supply chain to be compliant.
The security controls are frameworks that serve as the government's standardized approach to evaluating businesses' security maturity.
While meeting the highest level of CMMC compliance can be difficult, higher ratings open the door to more lucrative contracts.
A reliable MSP can tailor cybersecurity programs to meet your unique needs if your current IT team cannot help you develop more mature security frameworks.
Several businesses have IT teams that don't fit in the realm of the Cybersecurity Maturity Model Certification (CMMC) audits. A common assumption is that a CMMC audit will look at the internal parts of their networks — check on their server room, users, and cybersecurity frameworks.
Whether your IT team consists of an internal department or an external service provider, the CMMC will call and question them on your policies. Let's start with the basics.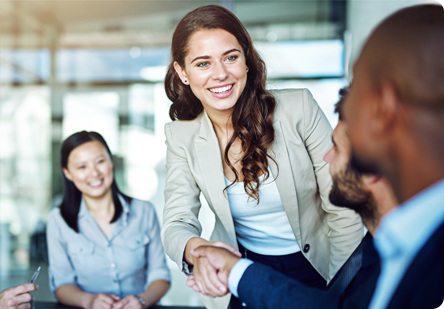 CMMC Compliance at its Core
CMMC is an acronym for Cybersecurity Maturity Model Certification. The US government requires every organization that makes up the DoD (Department of Defense) supply chain to achieve CMMC compliance.
The CMMC compliance entails security frameworks that serve as a standardized approach to evaluating a business' security maturity level.
CMMC compliance has five control levels, with the highest level translating to a business having excellent security standards. The higher the CMMC level your business achieves, the more mature your security frameworks have.
Importance of Your Business Achieving Higher CMMC Levels
Higher CMMC levels mean your business has higher security standards. With better security frameworks, your organization reduces the risks of cyberattacks, increasing business resilience and opening the door to more lucrative contracts.
The higher your CMMC standards, the more contract your business can bid on with the Department of Defense (DoD). The DoD offers more working opportunities to organizations with mature security frameworks.
What CMMC Audits Assess
A CMMC audit will assess a business's cybersecurity maturity to determine if the organization's compliance meets specific levels before certification.
The regulator offers five compliance levels to match a company's risk profiles to the data they use, store and transmit. Level one shows the lowest rating in cybersecurity maturity, and level five represents the most secure cybersecurity frameworks. All companies working with DoD must have level one security. However, the majority of government contracts will require Level 3 or higher.
Some of the security frameworks that CMMC will assess include:
Examining how your business onboard and offboard users
Checking how you manage cybersecurity
Scrutinizing your cybersecurity policies
Assess access control
Who Will Execute CMMC Audits?
An accredited CMMC third-party assessment organization (C3PAO) will perform the CMMC audit. CMMC itself will only review the audit and issue certificates.
What you'll incur during the audit depends on your business size. You need a team that only focuses on CMMC IT support. You need a handful of people within your company to help you remain compliant.
Colorado Computer Support Will Help Your Business Prepare for CMMC Audit and Get Positive Results
Colorado Computer Support can step in if your business has security specialists that can't prepare you for a CMMC audit and get positive results. We have a team of cybersecurity experts who focus on making businesses ready for CMMC audits and getting positive results.
We'll help you establish where your business stores, processes, and transmit Controlled Unclassified Information (CUI). Then, we'll identify the processes, systems, and services that CMMC applies level controls. Next, we'll help you formulate organization-specific policies to address compliance requirements. We'll shoulder all the heavy CMMC compliance tasks for you. Contact us today to help your business be assessment ready.