Your telephone service is the main way that someone connects with your business. A lot of people use email, but if someone really wants to get information from you, they will pick up the phone. It's your best chance to make a first impression, and nothing can beat the power of a good phone call.
Can you rely on a traditional phone provider to give you the business telephone solution you need?
Does your current phone plan offer conference calling, call recording, unlimited voicemail, automated phone attendants, or other business-class features?
How high is your monthly phone bill? Do you pay more for extra features or for long distance charges?
Can you access your phone system from outside of your office?
You need a phone solution you can rely on. To get the features you want and to cut your phone bill in half, it's time to turn to VoIP.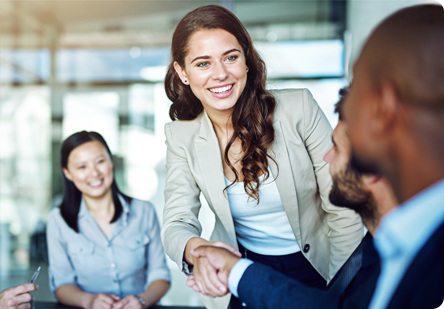 Colorado Computer Support offers a hosted VoIP business telephone solution that's easy to leverage to save your money and really leverage the power of telephony for your business. Call us at (719) 355-2440.
Colorado Computer Support did a fantastic job for Woodmoor Group. When our PBX system went down and we lost all of our phones, they were quick to diagnose the problem and offer a solution which not only solved our problem, but positioned us for bringing our phone system to a new level. We wanted to have click to dial support from our computers and our old system would not support it. With the solution they installed, we will have options that will take us well into the future. If you are looking for business class support, these guys are top notch, affordable, honest and hard working. I would highly recommend them to anyone."

Mark Chambers
Woodmoor Group.
Our systems allow your business to place calls using your Internet connection (the IP in Voice over Internet Protocol or VoIP), saving you up to 70 percent on your monthly phone bill. This makes VoIP a simple and affordable alternative to traditional phone systems. CCS's VoIP solutions offer a wide range of benefits that any business can appreciate:
Cloud-based service that offers high-end PBX network features without the associated high cost you'd see from a traditional phone provider. Your options include:

Call recording
Voicemail transcription
Unified voice & fax messaging
Conference calling
Automated phone attendants
Desk-to-desk calling
Music-on-hold
And more

Remote access of your VoIP network via office phones, home computers, smartphones, and other devices.
Easy customization of your features and service size, so you pay only for the services you need, and nothing extra. Plus it's easy to change your service down the road as your needs change – your service scales with your business. Easily add new users and office locations as your business grows.
Easy management of every aspect of your phone system from wherever you are via our intuitive web based point-and-click interface. You and your staff can manage their own find me/follow me and voicemail boxes. Our easy to use reporting system also allows you to track "who, what, when, and where".
Predictable flat-rate monthly billing with no hidden costs on your bill, and no extra costs for long distance or conference calling.
Built-in disaster protection from keeping your solution hosted in the cloud, so it's safe from anything that could damage your in-office equipment.
24/7 monitoring to ensure 99.9% uptime of your network.
A single point of contact from CCS for when you need support for your phone systems – no sitting on hold for hours with your old phone company anymore.
Colorado Computer Support: Your business VoIP company partner for your businesses. Contact us at (719) 355-2440 or blake@coloradosupport.com to discuss how CCS can help YOUR company communicate better.