Protect Your Data: Partner With an Experienced IT Team
Key Points
Cybercrime is on the rise, and data breaches are becoming more common.
To protect your data, you need a team of IT security professionals who can identify potential threats and take proactive steps to prevent them from becoming an issue.
Your IT team should assess your current security posture and develop a comprehensive plan to protect your data, network, and systems.
Choose an experienced team that can help you implement cutting-edge security solutions and services, such as cloud storage, encryption, authentication mechanisms, and more.
The dangers of data breaches and cybercrime are ever-increasing, requiring vigilance on your part to stay safe. You need a warrior in your corner that can identify vulnerabilities, protect your data and assets, and respond to threats quickly. A seasoned expert in the field of IT security can ensure that your data remains secure and your assets are well-protected.
To remain a step ahead of cybercriminals, it's essential to have a team of reliable IT security professionals. Their experience and expertise can provide your organization with the knowledge and skill needed to stay one step ahead of the bad guys and safeguard your data from malicious attacks.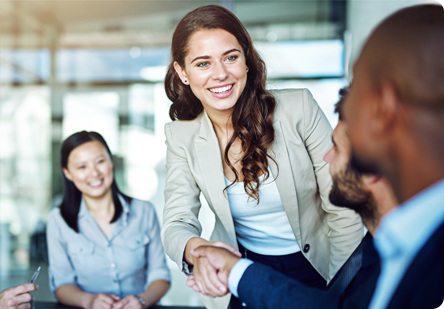 How an Experienced IT Team Helps
Your security is only as strong as your weakest link. Having a team of IT security specialists who know the latest techniques and strategies to defend against cybercrime can help you strengthen your organization's cybersecurity posture.
Your IT team can help you implement the latest encryption technologies, develop strong passwords and authentication practices, and monitor your system for any suspicious activity. With their specialized expertise and knowledge, they can help you stay ahead of the curve and protect your data from breaches.
An experienced and professional IT team can do the following:
Identify potential security vulnerabilities and create plans to address them.
Develop robust policies and procedures for data protection and security.
Help you maintain compliance with applicable industry standards and regulations.
Conduct regular risk assessments to keep your system safe from attack.
Provide real-time monitoring and response to threats.
Ensure that your data is backed up regularly for recovery in case of a breach.
It's critical to invest in a team of dedicated IT security professionals that understand how to protect your data and assets. Ultimately, having an experienced team on your side can give you the peace of mind that comes with knowing that your data is secure and your organization is protected.
How Do You Know if Your IT Team Is Qualified?
When selecting an IT security team, there are a few key traits you should look for to ensure that you have the right professionals for the job.
Experience in a Wide Range of Security Technologies and Practices
Experience in a wide range of security technologies and practices is important because it means that the team has encountered a variety of security challenges before. This gives them the knowledge and ability to respond quickly and effectively to potential threats, as well as develop comprehensive strategies for protecting your data.
Having a team with experience in a wide range of security technologies and practices ensures that they are up-to-date on the latest advancements and can help you stay several steps ahead when it comes to cybersecurity. From cloud security to encryption, having an experienced team on your side can help you protect your data and assets.
A Commitment to Staying Up-To-Date on the Latest Industry Trends and Advancements
The world of cybersecurity is constantly evolving and advancing, so it's important to make sure that your team is up-to-date on the latest trends and advancements. A qualified IT security team should be dedicated to staying on top of the most recent developments in the field so that they can continue to provide you with the most advanced and effective security solutions.
The right IT security team should also be committed to ongoing training and education to ensure that they remain abreast of the latest changes in the industry. This will help them provide you with a comprehensive security strategy that can keep up with the ever-changing world of cybersecurity.
Staying up-to-date on the latest industry trends and advancements also allows them to develop innovative strategies for protecting your data. This type of commitment is key for an IT security team because it ensures that they are well-versed in the latest developments and can respond quickly to potential threats.
The Ability to Identify Potential Threats Before They Become an Issue
No matter the size of an organization, one thing is certain: protecting its assets and ensuring safety is paramount. With increasing threats to security, it is more important than ever to have the ability to identify potential threats before they become an issue. Organizations must be proactive in their approach to security, rather than reactive. This requires foresight and the ability to identify potential security threats before they become a reality.
The best way to ensure your data is secure and all potential threats are dealt with quickly is to have a team of experienced IT security professionals in place who are able to identify potential threats before they become an issue. Whether it's a possible breach, a phishing attempt, or a malware attack, IT security teams must be prepared and willing to take action before the issue becomes more serious. With the right IT security team in place, you can rest assured that your business is safe from any potential threats.
Strong Communication Skills That Enable Them to Keep You Informed of Developments
Strong communication skills are essential for IT security teams because they enable them to keep you informed of developments. This allows you to stay up-to-date on any changes or updates that could affect your organization's security posture.
Strong communication skills enable the team to clearly explain any security risks or issues that may arise, as well as how they can be addressed. This gives you peace of mind that your data is secure and that any potential issues are quickly identified and addressed.
Diversity, Equity, and Inclusion Values That Are Reflected in Their Work
Diversity, equity, and inclusion values are essential for any IT security team because they foster an inclusive and welcoming environment for all staff. This helps ensure that everyone is respected and allowed to bring their unique perspectives to the table.
Having diversity and inclusion values in place helps create a more equitable working environment, where everyone is encouraged to contribute and share their ideas. This ultimately leads to better decision-making, which can help protect your data.
Those who are often overlooked or undervalued are given the chance to showcase their skills, which in turn can lead to stronger security policies and practices. For example, military veterans, who are often underrepresented in the IT security field, can bring valuable experience and insight to their work. Military and veteran experience is also an asset, as it provides a deep understanding of security protocols and risk mitigation strategies.
Data Breaches Are on the Rise: Now Is the Time to Prioritize Cybersecurity
Moving into 2023, data breaches will be of greater concern than ever before. With cybercriminals becoming bolder and more sophisticated, businesses are having to ramp up their security measures to protect their data from being stolen or accessed by unauthorized individuals.
The most effective way to defend your data is to get ahead of the threat and have a proactive IT team in place. A good IT team will develop and implement strategies that can detect, respond to, and ultimately prevent data breaches and other cyber threats from happening.
The most successful teams are those built with a combination of technical experts, business leaders, and communication experts. Technical experts should be well-versed in the latest security tools and techniques, while business leaders should have a firm understanding of how their industry works, any legal implications associated with a data breach, and how it might impact their business.
Communication experts can help ensure quick and effective communication between all stakeholders in the event of a breach. It's also important for businesses to invest in training and education for their employees. Educating your staff on how to recognize and report potential security threats is a key part of staying proactive in the face of cybercrime.
Prioritizing cybersecurity is the best way to protect your data and ensure that it's kept safe from malicious actors.
Wrap Up
No matter how advanced security technology becomes, it will always be essential to have a skilled IT security team in place that understands and can respond quickly to the threats of today and tomorrow.
Data security is only getting more important as cyber threats continue to evolve. Having an experienced IT team in place that can spot potential threats before they become a problem and take proactive steps to prevent them from becoming an issue is essential for any successful business.
The future of secure data is in your hands. It's time to stop reacting to the threat of data breaches – take action and partner with a proactive IT team today.